PROGRESS REPORT No. 17
Map relating to this progress report
Map 3
We're on our way to Khatanga.

On Tuesday night we towed the disabled Dutch yacht Campina over to the freighter 'Orucheniski'-a demanding operation for Jarlath at the helm, in fresh wind, in open sea, ice-floes moving and all in the dark. Probably the most high-risk part of it for us was the retrieval by Rory of our grapnel ice-anchors mooring us to the grounded floe where we were tied. The footing was very slippery on the icy floe. Even with ice-axe protection to get a bite to hold on to, we all were glad to have our anchors, and men, back aboard.

Over the previous one and a half days, under the radio direction of the nuclear icebreaker 'Vaygach', we had gone in through ice, pulled Campina off the floe to which she was tied, towed her about 30 miles to the location where her rescue sea-lift would take place; all of this through grease ice and young ice. The grease ice is a mush about two inches thick when the sea first starts to freeze. Young ice is the next development , when this turns into a harder skin, still soft , but slowing boat movement and particularly manoeuverability.

Kevin and Micheal went aboard Campina to help during the tow. The speed was generally only 2 knots when moving well. Because Campinas rudder was bent sideways she wouldn't tow straight and veered off to one side. We countered this as best possible by adjusting our towing bridle and backing a headsail on Campina.


During all of this we considered our own options. The polar pack to the north had got heavier, the sea was freezing around us, definitely time to get out. We decided not to pursue the 'sealift' option onwards. None of us were enthusiastic about the concept, not to mind the probable cost. We had always said that this was a two year project, plus or minus. Of course we had hoped that by going hard at it ( and with luck ) that we would do the Passage in one year.

Not to be!


Incidentally, we hear that the North West Passage never opened this year either. Franklin Strait remained clogged. Four east-going boats, two of whom had already overwintered in Cambridge Bay, had to return there, and two west-going boats had had to retreat.


Now we all are enthusiastic about coming back next year, and in more normal ice-conditions finishing the Passage.


Thursday. Mid-afternoon. We're in the Khatanga River. Big River. We weren't charted for this, and you really need to be. It's full of shallows and sandbanks.

By radio, Slava made local contact, and a 'pilot' boat passed charts to us, putting a fine dent in our hull as she did so with some inelegant manouevering.

It's about 90 miles to go now. We'll be there sometime tomorrow morning.


We hear that Khatanga is an old and interesting place and we're looking forward to stretching our legs.

The big thing of course is to get the boat safely laid- up and then to get a flight to the 'outside'.


We'll do a last Report before we leave, probably middle of next week.

---
Young Ice Forming Around Northabout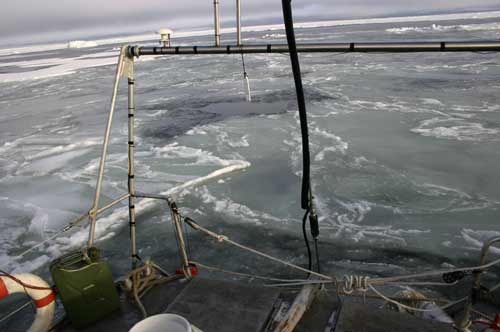 ---