Progress Report No. 3
Saturday July 17th.
And a fine day it is in Dutch Harbor, Unalaska Island.
The Aleutian Chain stretches 1,000 miles, separating the northern Pacific from the Bering Sea.
We've been here since midnight on Thursday, getting in just in time to have a few beers in The Elbow Room, followed by a couple of Baileys (bottles that is) back at the boat -- oh the euphoria of arrival, and didn't our heads pay for it on Friday.
This town is all about fish. Everyone works, hard grafting fishermen on the boats, American mostly and foreigners in the processing plants, Philipinos mostly, but Mexicans too and from all over.
There are some women too, they say that 'there's one behind every tree' -- but there are no trees! The few women work as taxi-drivers, in the hospital, truck-hire and and 'city-hall'.
Most all, bar the few remaining native Aluets, are transients, here for the money. Among them, reputedly, are quite a few fugitives from the law of the 'lower 48' states.
Our 1,300 mile passage across the Gulf of Alaska was uneventful, after we settled in. Mostly we engined in light winds and flat seas. For about a day and a half we had good wind and the silence under sail was delightful. Surprising was the effect of the 'Seamounts'. We passed over Dickins Seamount, with 400 metres of water over it, to suffer very rough water as the half-knot Alaska Current upwelled.
Thereafter we set our course to avoid Seamounts!
Approaching Unalaska the tides are considerable, the Pilot Book telling of 6 to 9 knots, with whirlpools, tide-rips and bad stuff. We chose Unimak Pass, and had no bother, other than a few hours of contrary tide. The first Aluetian Islands we met were very like the Faroes, windswept and green with not a house, not a hut, not even a sheep, in sight. Snow lay in the gullies and on the higher ground.
With about 40 miles to go I thought I saw whales inshore of us breaching their spent air, but no, they were 'williways', gusts lifting the water off the sea. Soon we were battling into it, full oilies on now, speed down to 3 knots, sometimes even less as waves broke over us. No joke.
As darkness fell we nosed into the shelter of Dutch Harbor, the copper domes of the old Russian Orthodox Church at the head of the bay in sight. Passing by a big Crabber, our Irish tricolour flying, a shout of 'Up Killybegs' came from her deck!
Between searching for a few parts we need, meeting people at the dockside, the UniSea Fish Processing laundry and the bar at night, we're meeting friendly and helpful people such as Dee Dee Hanson, who took our Fedex delivery of Passports with Russian Visas -- no charge, just a big Irish Hug. And today she came by with big King Crab claws and scallops.
Chris Gannon, from Westport, has been showing us round in a generous way.
Rob Torkildson, Immigration, Mountain Man and writer, sometime soulmate of Dermot Somers.
Dutch Shipper Arno Stockmans, friend of Dun Laoghaireman Gerry Pinkster.
Scott Darsley, marine electrician and serious American climber, K2 and that.
Monday.
We're still here and restive to be on our way, but the wind is still blowing freshly from the north-west, exactly where we need to go.
But yesterday was a fantastic day walking on the hills. It was actually sunny and hot as we walked with Rob, Scott and a few others -- all the better for my not(!) having done the Ballyhoo Mountain Run on Saturday evening. Mount Ballyhoo was so named by Jack London, participant and chronicler of Gold Rush days around here.
And not to forget it as it comes to mind, a resonant phrase I heard from a local builder -- 'Good Enough For Government'
End of progress report no. 3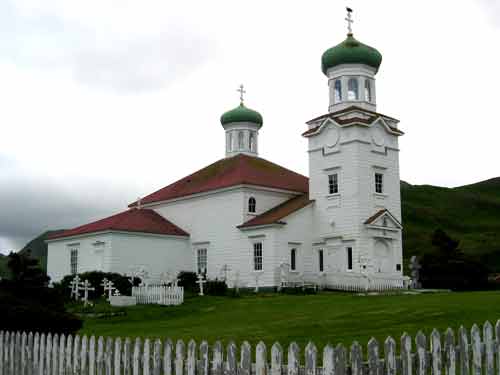 The Russian Orthodox Church in Dutch Harbor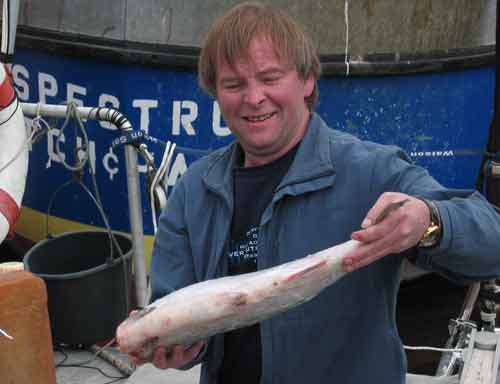 Eoin holding Monday's dinner - a red salmon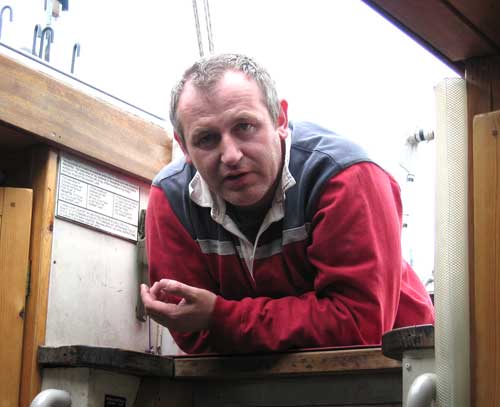 Look what the boat dragged in - Chris Gannon from Westport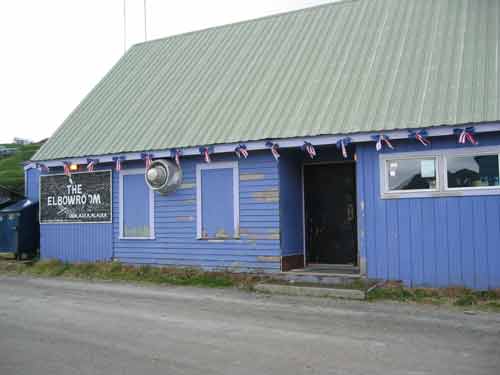 The Elbow Room bar