Progress Report No. 6
Map relating to this progress report
Map 1
Wednesday August 4th.


We rounded Cape Dezhneva, the most easterly point in Asia, last Friday night, not that we saw much of it through the fog. Big Diomede Island lay 19 miles to seaward, now home to twenty Border Guard, only, the local population having been moved out during the Cold War.


By mid-day Saturday we approached the bay where Amundsen had been forced by ice to overwinter the Maud in 1920 / 21. Our Admiralty Pilot Book said that "there was reported to be a polar station and a trading station in this vicinity".

Indeed there was. We anchored off the one mile long sandy beach, near to where some local boats were pulled up. About 20 or 30 houses lined the shore, some in better condition than others. The locals, all Chukchi xxx, were most welcoming.

We met the Mayor, who, in his office, gave us a run down. Yes, he had heard of Amundsen and his ship, the Maud, which had spent the winter here. No, he didn't know whether Amundsen had any 'padruga' ( girlfriend ) ashore.

The local population lived mostly by Whaling ( permited is 3 per year), Walrus ( 30 per year) and Sealing ( unlimited ). Pretty basic living I'd say. Although, they did have a twice- monthly helicopter service to 'outside'.

And it was on that helicopter that most of the adults had gone to the 'Whaling Festival in Lorino'-the one that we couldn't find!


About three hours later, off we went in fine fettle, comparing digital photos and talking the afternoon talk. It's always socially lively on the boat during the afternoon and until after dinner when the night watches begin and the chat quietens down.


We ran into a local boatman. He showed us round the buildings of the landing place for a former Dolstroi gulag, 30 kilometres inland.


We passed Cape Vankarem, with its small village. It was here that Captain Bob Bartlett came ashore in April 1913, over the ice from Wrangel Island. The crew of the ice-crushed Karluk had spent a most awful winter on that island.

We have four or five dozen books in our 'library'. We began rereading of Bartletts effort to get help for those left behind, those still alive. His two month sledging journey back to Provideniya Bay, about 500 miles with the swings and roundabouts, stands with the epics of Shackleton and Valerian Albanov.


On Sunday, 05.00 hours, we saw the ice-blink, that white reflection in the sky telling of ice ahead. A half hour later we saw the white line on the horizon. We altered course towards inshore, where the ice might be lighter. As we did, we saw what we first thought to be dirty ice. But this was sea ice, not like glacier land ice which often picks up dirt. And it wasn't dirt, it was walrus, about a dozen of them, sunning themselves. We got within about twenty metres of them before they took to the water, still showing their hairy whiskers and long tusks.




For the next twenty hours we weaved our way along by the shore, in a light following wind, going through about 3/10 ice. ( 3/10 indicates that fraction or part of the sea covered with ice. ) For every mile made good we travelled about four or five, with the 'shimmyen' this way and that. At 3 am, in fog with visibility down to about 200 metres, we anchored, 100 metres off the shore. The buildings of Mys Schmidta were faintly visible.

One man at a time stood anchor watch. Welcoming sleep for all others.



It's now Wednesday, and stuck in Mys Schmidt (---not Miss Smith, as one of our crew quipped ) and we're restless.

Mys Schmidt was grand for the first day, pretty broken down as it is. The military have gone, leaving behind a town in decay, and a much depleted population. Though there are some grand people, the landlady of the 'gastanitza' where we had a dinner on Monday night, the 3 lads up from Omsk doing some building work had a lovely Russian sound to their singing. Sasha, a state physicist, took some of us out to see his laboratory where he monitors atmospheric radiation.

Urei Dundev Aleksangro, is the airport manager, but more interestingly, local historian. Through his efforts there is a monument in the square to, of all people, Captain James Cook, who voyaged to here in 1778. He couldn't get any further westward. Neither could the Russian yacht 'Apostle Andrew', which, five years ago, spent 25 days on anchor here.

Why do we feel as we do? Yesterday was a grand day for travelling, but the forecast wasn't good, so we stayed put.

As it happens, today is breezy, our anchor dragged early this morning and we had quite a job getting it and its chain out from under the ice floes. We moved a couple of miles up the beach and are tied to a grounded ice floe. At least it WAS grounded, now it too has started to move.

---
Walrus on ice floe - taken by Rory Casey on Thursday 5th August, East Siberian Sea.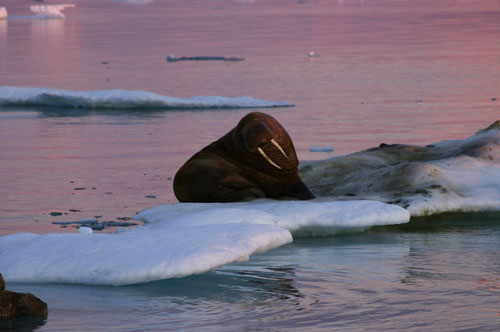 Crew of Northabout (tied to ice floe) taken by Ice Pilot (Slava)